Quality over quantity: Laco German watch manufacture.
A Laco is more than a watch. It is an expression of character. Because, no matter whether you wear a robust aviator watch, a precise chronograph or a timelessly elegant classic on your wrist: each Laco has a unique character, which is distinguished by the love of detail and passion, with which our watchmakers built it: with complex and sophisticated craftsmanship.
The Alpha and Omega at Laco: Manufacture from A to Z.
Our credo is: hand craftsmanship instead of industry. That was the way it was when the company was founded, is more relevant today than ever before - and will continue to be our goal for the future. Therefore, each watch is developed in Pforzheim by our expert watchmakers and assembled with precise craftsmanship. From the idea to the finishing touches. Because our philosophy is: what matters is the quality, not the quantity.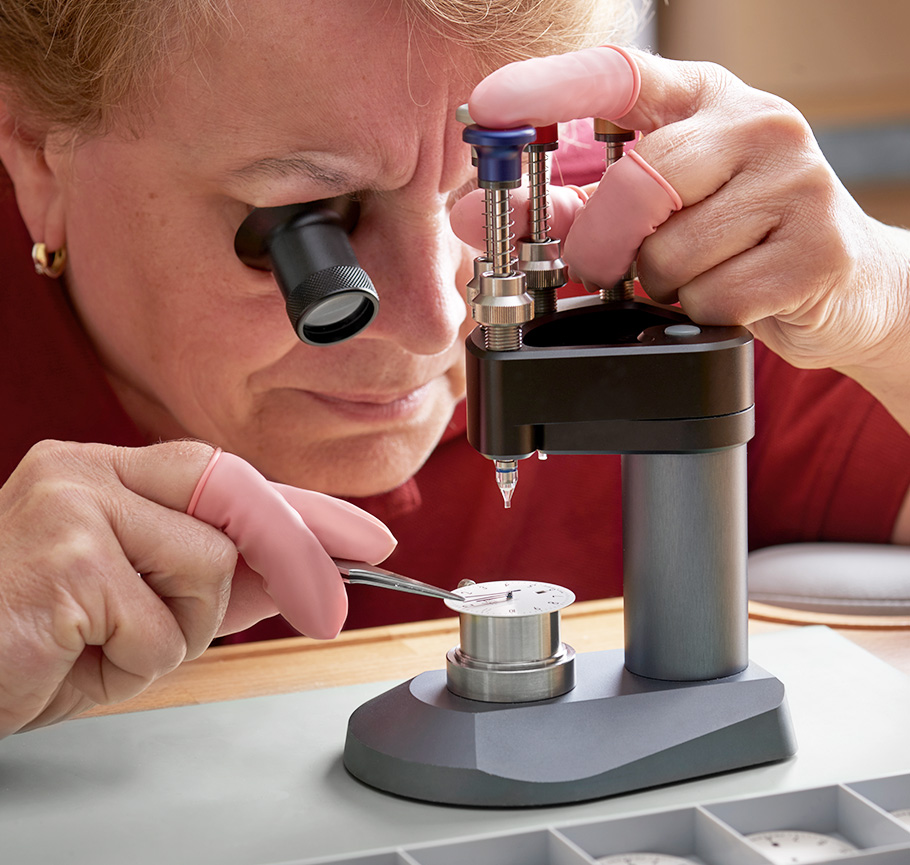 watches from Laco – precision, clarity and character.
A watch that is allowed to leave our factory is produced not only with precise and knowledgeable craftsmanship, but also with great passion. Because in addition to the many years of experience and craftsmanship, it is their passion for something original that motivates our watchmakers every day. Watches from Laco are distinguished mainly by three characteristics: precision, clarity and character. Characteristics that make them unique pieces in their category - from classic and reinterpreted aviator watches through purist designs in the Bauhaus style and sporty chronographs to rugged military watches, which have been designed and constructed for extreme situations. A Laco is always an individual and practical companion with character.
Manufacture also means working hand in hand.
Not only our watch workshop in Pforzheim is small but beautiful, but also our local team: in number not much bigger than a football team - but always highly motivated with inspiring ideas, outstanding technology and the individual talent and skill that allows them to play with the very best. Every employee knows exactly what the other does, why he does it and how he does it. Only in this way work processes and steps are possible in which the employees can rely on one another. The result: professional craftsmanship, excellent service and optimal timing when it comes to building the perfect watch for you.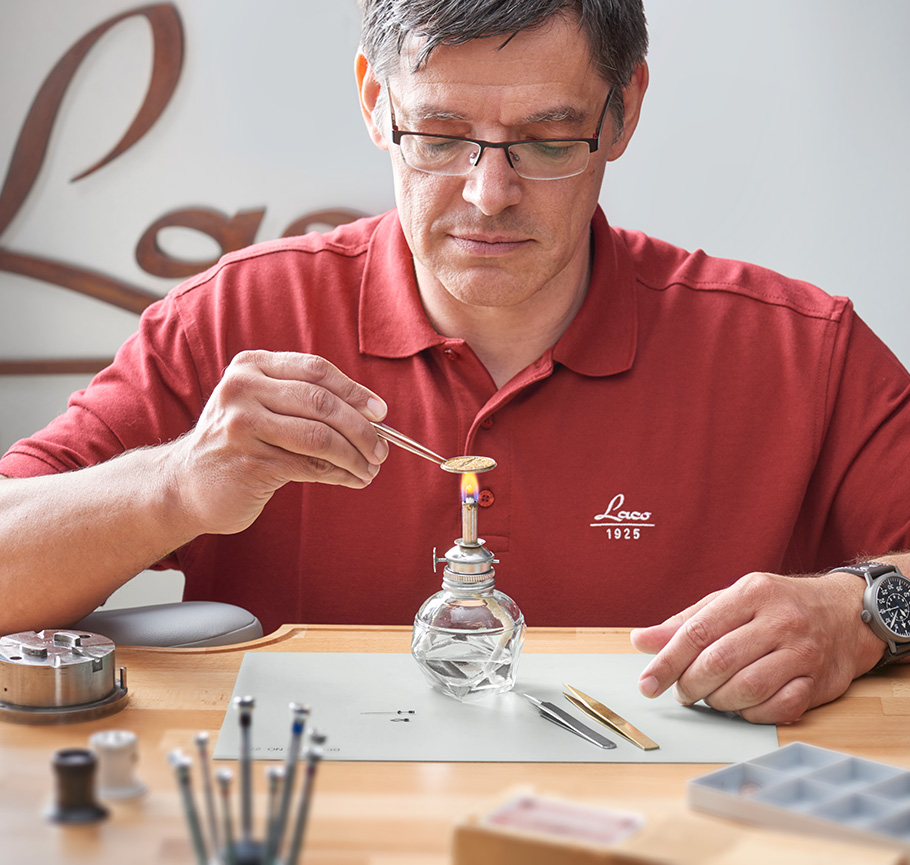 Refined by hand: thermal bluing.
Our watchmakers have a burning desire to create unique timepieces for our customers in our workshop in Pforzheim. Sometimes we mean this in the literal sense of the word: one such step is thermal bluing. Thermal bluing is a refining process, in which certain components of a watch - for example, the steel hands - are stained blue by controlled oxidation. During the production process of select Laco models, for example, with some aviator watches, experienced watchmakers heat the corresponding components of the watch slowly to a temperature of about 300 C. The metal becomes covered with a thin, shimmering blue layer - and gives the watch a very distinctive, individual character.
Handmade in Pforzheim.
The internationally recognised quality seal "Made in Germany" is associated usually with quality features such as first-class workmanship, innovative technology or high precision. Just like the name Laco.
For over 90 years Laco has built watches exclusively in Germany, in Pforzheim. Founded as a family business by Frieda Lacher and Ludwig Hummel, Laco started to manufacture watches in 1925 in Pforzheim - and was known primarily for wristwatches. In the 1940s Laco was one of only five manufacturers who exclusively had the permission and order to make aviator watches. The detailed requirements laid down for observation watches for the German Air Force were formulated by the Ministry of Aviation in the classification "FL 23883". This number stood for "navigation devices" and could also be seen on each watch on the opposite side of the winder. Before delivery, an official testing institute checked each individual watch - and their status according to the regulations confirmed by a certificate.
Under strict guidelines Laco therefore took on the production of aviator watches for the German Air Force in the 1940s - as well as pocket watches for the Navy. The aviator and navy watches were both equipped with the high-quality DUROWE D5 manual winding calibres.
While Laco can look back on an eventful and exciting company history, one thing has not changed over the years and decades: the high standards of always delivering "Made in Germany" quality. It is our watchmakers who have made the Laco name, and who, with their extensive experience and total passion still today incorporate a great deal of craftsmanship into the production. All of this for a seal of quality that each Laco watch carries before is allowed to leave our workshop.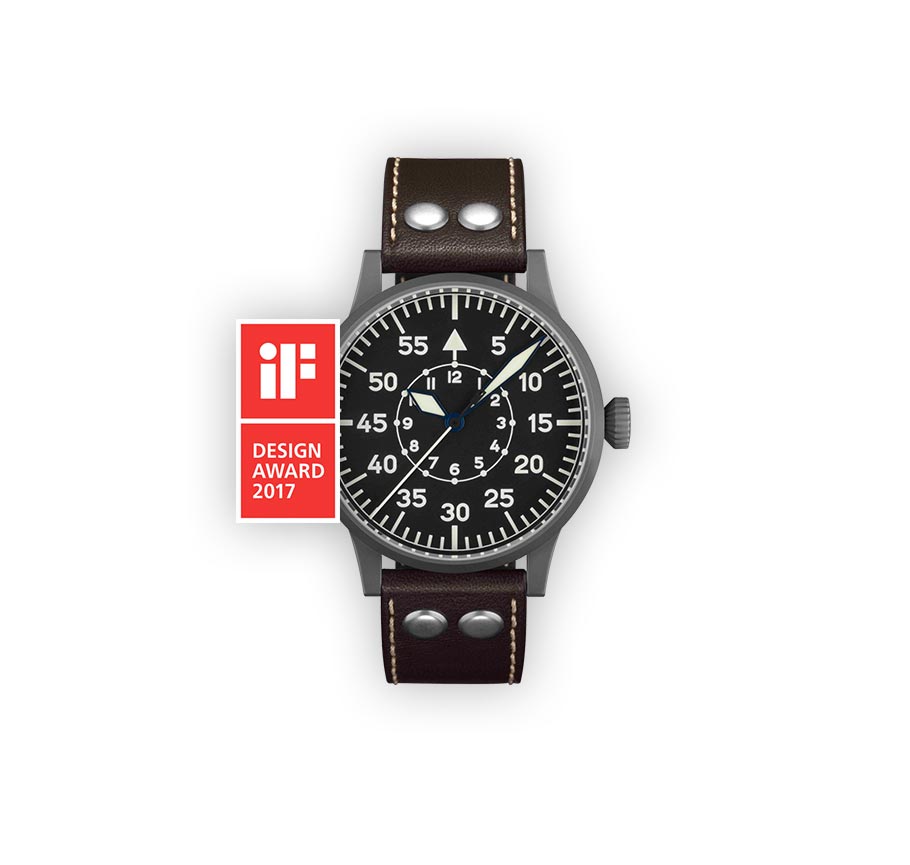 Excellent design: watches from Laco.
The Laco name has always stood for quality that can be seen. It is therefore not surprising that our watches win over not only our customers but also expert juries of prestigious design awards. So, for example, in recent years Laco watches have been awarded the coveted iF DESIGN AWARD.
The iF DESIGN AWARD is an internationally recognised trademark for excellent form and composition: an international seal of quality for outstanding design. Among other things, the Laco aviator watch Dortmund has been awarded the iF DESIGN AWARD.